Attention Advertisers:

If you now advertise with us, thank you. If not, consider what we can do for you. The average unique views of The O Scale Resource two months after publication is 3300. As of April 5, 2016, the January/February 2016 issue had 3128 unique views (as counted by IP address).

That's over three times the subscribers of the other O Scale magazine**.

In addition, over 2334 links were clicked directly to our advertisers, 1122 pages were printed by the reader and 561 complete PDF downloads were saved. Now, we canít promise sales, no one can guarantee that; however, we can and do promise to deliver the reader directly to your Website. No print magazine can offer that. And, because all older issues stay on line, your advertising dollars continue to work for you. As an example, between January 1st, 2016 and April 5th, 2016, the September/October 2013 issue received 408 views with 65 advertiser links clicked and 54 PDF downloads. Thatís for an issue that was released almost three years ago! No print magazine can consistently deliver customers to you in this manner. Call or Email Dan at 815-584-1577 for more information. We always offer full color and design assistance at no additional charge, plus discounts for multiple insertions.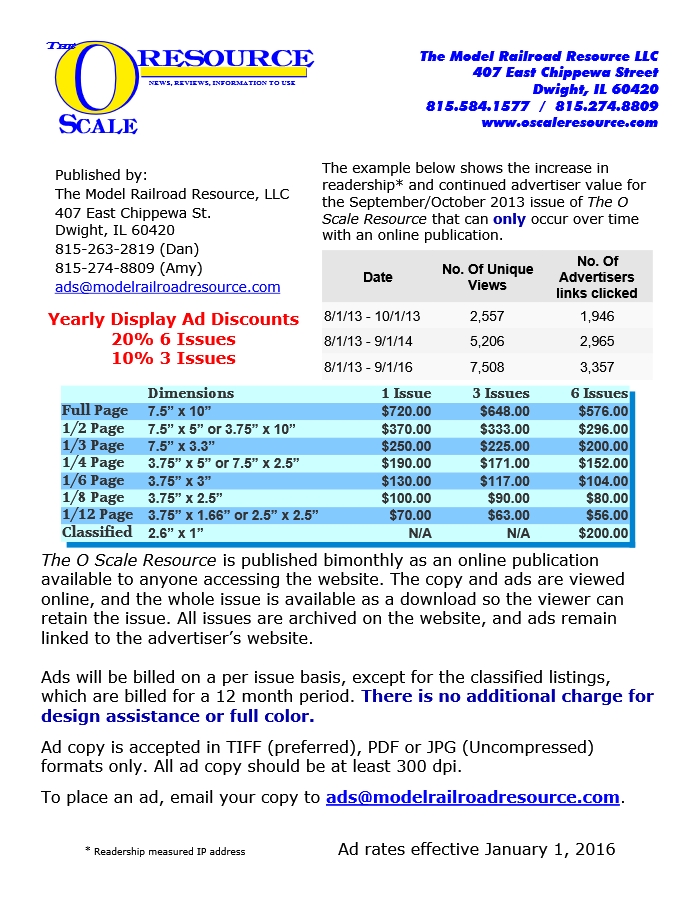 ** based on published subscriptions November/December issue 2015